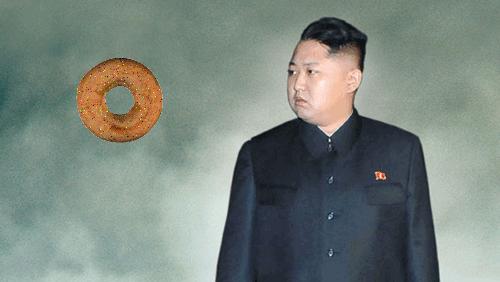 Doubters and conspiracy theorists from all over the globe have always been very quick to dismiss the greatness of the Supreme Leaders of North Korea, past and present, as being nothing only propaganda.
However, today Kim Jong-un found an unlikely fan and ally – illusionist Derren Brown. Brown, who is known the world over for his great work as an illusionist, mentalist and hypnotist, today stated that he was a great fan of the Supreme Leader's skills.
He arrived in Pyongyang yesterday and met with the great North Korean hero. After a long chat and some Korean delicacies the gentlemen retired to the billiard room to show each other what they could do. Soon after the meeting the Englishman tweeted this video of Kim Jong-un rotating a levitating ring doughnut using only the power of his mind.
Some doubters are claiming that this is an optical illusion and that Denis Rodman is actually spinning the doughnut.
Comments
comments